Looking for a minimalist design for your hydronic heating system? What could be more minimal than invisible!
With a floor coil system, heated water flows through pipes under tiled, timber, concrete or suspended floors. Heat is released through the floor, discreetly and comfortably warming your home.
For more information on our underfloor heating, please explore some of the options below or contact us.
Discover our Underfloor Heating Options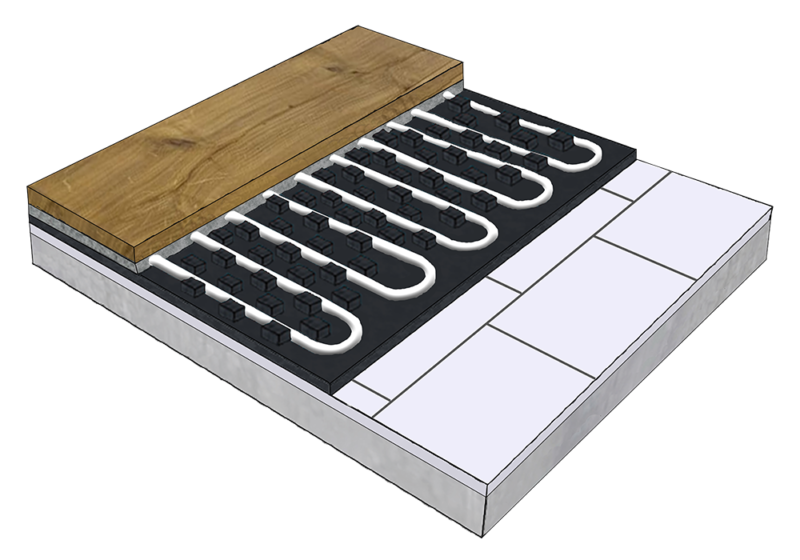 With minimum overall depth, Uponor Minitec is an ideal system for renovation projects. The Uponor Minitec sheeting element with specialised PEX-A pipes measuring 9.9 x 1.1 mm, is easy to lay on existing screed.  The adhesive layer on the back of the sheet guarantees a secure bond during installation.  The levelling layer is installed just above the raised knuckles, resulting in an increase in floor height of only 15mm.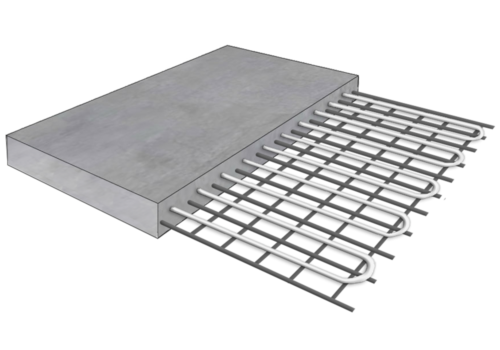 This is the most common application due to budget and simplicity.
16mm Dia pex piping is tied at approximately 200mm centres in a spiral or serpentine pattern at an optimum depth of 50-70mm below finished floor level.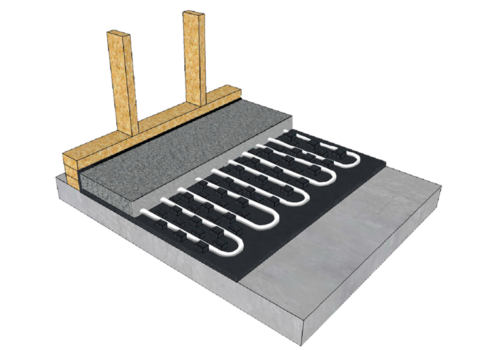 In screed heating is the most and responsive method of under floor hydronic heating, it can be installed in both new and existing homes. Under floor heating pipe is located and secured into Pipe Positioning Board, at a distance of 200mm apart, which is laid directly on top of a pre poured structural slab (set down). The under floor heating pipe and Pipe Positioning Board are then screeded over with a minimum of 50mm thick concrete screed.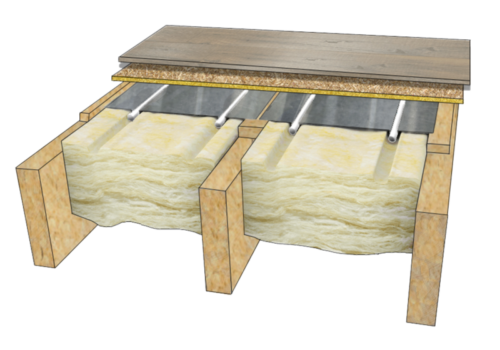 This method of underfloor heating based on installing  an Aluminium 'Heat Emission Plate', between the  joists, These are designed to conduct heat energy from the piping placed in pre fabricated grooves this creates a larger heat transfer surface area. An  insulation  board or batts should be placed under the plates to reflect the heat up aiding  efficiency and response times.
If you'd like a quote, wish to visit our showroom or would simply like more information about hydronic heating, please contact us. Alternatively, please feel free to fill in your details below and a member of our team will contact you within 48 hours.
Just had hydronic heating installed by the team at Melbourne Hydronic Heating. The guys did a fantastic job and were great to have around. Most importantly the house is beautifully warm - no more hot air blowing through the ducted system! If you're think about changing to hydronic heating, give these guys a call.
First Class. Efficient, Courteous. Highly recommend.
Workmanship and aftersales service is 1st class. Highly recommend!
We had an excellent experience with this group. Quick and competitive quote from Darren, and the installer Andy was very knowledgeable and thorough. I have no hesitation in recommending this company.
Excellent service from Darren and all team members. Very professional company. The heating is the best!
Being such a big and expensive install I think its worth a review. We are very happy with the install from Darren and team. We have a massive house and we are now warm everywhere in the house. Generally a very clean install. They were not the cheapest quote but we felt they had the best ideas for making the installation as hidden as possible and they were very willing to discuss locations of each unit in a way that suits the look of the house. The hydronic system is also very economical.
Our son has allergies, so it was a not a big decision to swap ducted to hydronic heating. Our home was architecturally designed with not too many options for the retro fitting of hydronic panels. Darren found ways to enable panels in all areas where others said it could not be done.